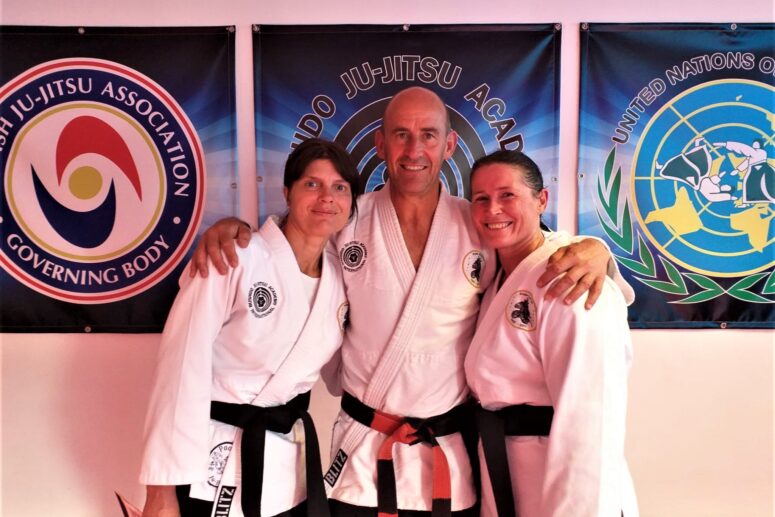 Two new black belts for Poole Ju jitsu Club were crowned in front of the academy's top instructors at the weekend. Both female candidates attained high marks in their respect gradings in front of the Bushido academy chief instructors Sensei James Pape 10th Dan & Professor Paul Geoghegan 9th Dan. Also on the panel were Sensei Andy Pryce 7th Dan, Sensei Phil Rhodes 6th Dan, Sensei Alex Fraser 6th Dan, Sensei Dave Bushell 6th Dan and Sensei Neil Scratcherd 6th Dan.
Club instructor Sensei Andy Walker 5th Dan was delighted after the months & months of hard work both ladies have put in. Each grading takes over a year to put together as well as the years of training perfecting the Bushido syllabus behind them. The girls travelled up to the academy headquarters in Ellesmere Port, Cheshire in the early hours to get a good start and steady their nerves.
Claudia Robinson went first and underwent a gruelling intense hour of running through the black belt syllabus which sees the candidate put under pressure into proving to the panel how much they want to be a Bushido black belt which is considered one of the very best academies in the country. Claudia never showed any signs of quitting and completed the whole grading to a high standard.
Next up was Karen Nuttall whose determination shone through after a tough five weeks which saw her having to stay in Manchester and travel to the Bushido headquarters to train. Again, Karen proved to the panel that "This Girl Can" attitude and the training regime proved successful. Both ladies are now the fourth & fifth female black belts under Poole Ju jitsu Club senior instructor Andy Walker who was delighted at both performances.
Claudia & Karen would like to thank the Uki's on the day who were Sensei Phil Rhodes 6th, Dan, Sensei Mille 1st Dan from Ellesmere Port Bushido, and Sensei Jay 2nd Dan, Sensei Aaron, and Sensei Jordan 1st Dan all from Wings Bushido.